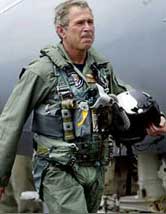 "Mission accomplished!" said Frank, over dinner tonight. We all looked at him. "It just doesn't mean what it used to mean now, does it?" he said.
"Neither does 'Heckuva job,'" pointed out someone else.
There should be a word, maybe something based on "oxymoron," for expressions that used to mean "[something]" but now mean "[ha-ha-ha-NOT-something]." Heckuva job on creating so many, Team Bush!
Since I'm suggesting it, maybe I should make up said word, but since nothing suggests itself I won't.
But that's OK, because what I will do is "take full responsibility."