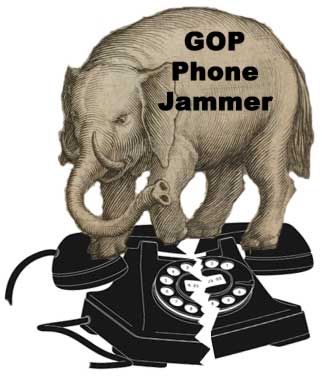 It won't be in bookstores for another week but that didn't stop two "reviewers" last week from posting low-ball reviews on Amazon. The book is How to Rig an Election: Confessions of a Republican Operative, a colorful, profane, and surprisingly frank memoir of sleazy politics.
Media mentions of Allen Raymond's book have mostly talked up his phone-jamming, for which his RNC pals threw him under the bus. The book details many stunts more colorful. Deceptive robocalls to Democrats from "scary black men" or "actors putting on thick Spanish accents" worked wonders at keeping them home on Election Day. Swapping soft money for hard–funneling GOP dollars to leftwing splinter candidates–engineering repeat contributions from donors who had already given their legal limit–Raymond names names and shows how each trick works.
Adam Cohen in the NYT says that this book may finally force Senate action on the long-delayed Deceptive Practices and Voter Intimidation Prevention Act. I hope it will.
I got an advance copy just a few days ago in response to my longtime phone-jamming blogging, and just posted my own review on Amazon too. It would be quite a job to track GOP lowballers around the two-way web but you may find it an interesting hobby. (On Barnes and Noble: "Pitiful and poorly written," some prescient reviewer claimed on Christmas Day.)
Probably the biggest reason that GOP insiders want you not to read this book is not the rude first-person memories of Bush, Rove, Feather, Synhorst, et al. but the way showcases in-crowd contempt for their freeper supporters — "the Jesus-loves-guns crowd" — "the knuckle-draggers, the gunnies, and the committed ideologue nuts." "The mouth-breathers who who decide GOP primaries might allow people to steal their money and send their children to impossible wars but they'll cut no such slack for baby-killers."
The book's quite a read, and it could just make politics better.