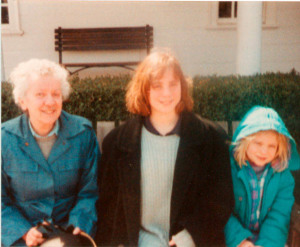 My mother could remember when an electric iron and central heating were huge tech novelties.
I can remember my first pocket calculator (which cost a fortune!), and I remember how long I kept using my CRC handbook and sliderule anyway, not the new toy. I remember my first VHS, the freedom of time-shifting or just re-watching good movies. And my first home computer! But all those were commonplace items to my two daughters.
My daughters remember a time before there was an Internet; a time before smartphones, Siri, ubiquitous constant connection via the "cloud." To their children, all those will be unremarkable facts, as commonplace as deliveries from the coal man and the ice man were to my mother's household in the 1920s.
My mother was 8 years old when women got the vote. Soon thereafter, her aunts daringly drove from Northampton to Springfield in order to have their long hair "bobbed" by a barber. Oh, the freedom of not spending hours every day maintaining long hair — and oh, the wonderful freedom of owning a car!
All new technology pokes and prods our shared culture. Even despite some nostalgia, most of us would be reluctant to give up our latest new tech freedoms.
Here's hoping the book that inspired these thoughts (The Second Machine Age, by Erik Bryniolfsson and Andrew McAfee) will provide more answers than I can now see by myself.