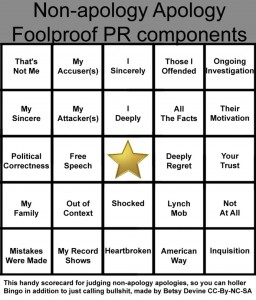 Coming soon to a PR debacle near you… the carefully crafted non-apology apology that admits no guilt or liability for whatever it is that upset a whole lot of people but instead works to show the (alleged) wrongdoer is in fact the victim here, and anybody who judges said (alleged) wrongdoer is just as bad as the whistleblower(s) who made (alleged) misdeeds public. Or, in other words, worse than H****r.
Note the Creative Commons license that I pasted right on the bingo card, Internet people. Because it is mine and I made it. So don't you go be worse than H****r because I am counting on Google to buy this from me for a million gazillion dollars.
Because Google might not need this Bingo card yet, but in the long run, Google, you'll need it.