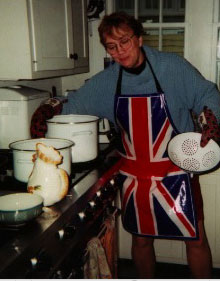 One of today's most emailed New York Times articles urges us all to approach Thanksgiving dinner like CEOs.
I'm sorry… like what???
Do you mean that as CEO of Thanksgiving dinner …
… I should blow my full budget on superbowl ads for my cooking — and beg for a taxpayer bailout to buy me some turkey?
…I should take a holiday bonus of half the gravy and cranberry sauce?
…I should tell people I long ago asked to share dinner with us that times are tough so I have had to "downsize" them?
No thanks, New York Times, but how about telling those high-flying CEOs to be more like … us moms out here making Thanksgivings? Because when tomorrow night comes, we will have given a whole lot of people a whole lot of what they really, really wanted. Can you say the same?
Really, honest to Pete, can you believe that the deep-thinking economists and high-flying MBAs — who just landed our planet in its current pickle — truly imagine that they have good advice for others?
On a kindlier note, here's a link to one of my alltime favorite posts ever including the national Thanksgiving prayer: "O Lord, you know I don't know how to cook this ugly bird…"