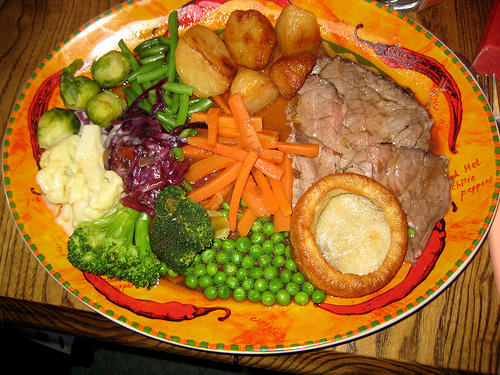 English Sunday traditional roast beef with Yorkshire pudding just got multiple updates–from a bright orange Mexican plate to the colorful veggies, steamed lightly to please modern taste buds.
But this photo is symbolic–not so much of what I'm eating as it is of the too-many too-tempting things distracting me from my current blog troubles.
Aside from Gilbert and Sullivan, lectures on Darwin, springtime in Iffley, work on my book, trying to set up a non-fiction writers' workshop, and the glories of Oxford Botanic Garden, there are distractions less delightful taking up far too much time…grocery shopping with no car, just for a starter.
And then there are cross-cultural gotchas, like the dry cleaner who phoned to tell me that somehow he'd broken all eight buttons on my best jacket. He did pay for ten new buttons and sew them on free, but I did have to go find them in a tiny second-floor sewing store on a small back street.
Do less, write more–what a good plan. I plan to try that plan now.