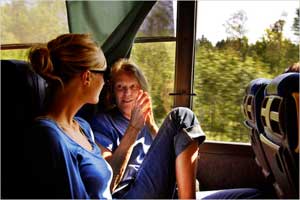 From today's NY Times, here you see mother and daughter jaunting and laughing through summertime in side-by-side bus seats, because "My daughter and I wanted to see the Swedish countryside, and a bus is a good way to do it."
I always love visiting Mary in her lovely and welcoming small-town NH library. I'm glad NY Times photographer Jacob Silberberg captured her and Kerstin in such a lovely but truly typical moment. I'm also glad he mentions that Mary is 60.
It seems to me that the natural active fun for a person at any age is whatever stuff that exact person has real fun doing.
My Time Goes By friend Ronni Bennett pushes back when older people talk about being active or happy as feeling young. I know why she does–for the same reason I once wrote about "I'm too bleeargingledly for my shirt." But I think what most people mean by "feeling young" is just that we don't feel some (bad) way society told us we'd feel when we got "old."
My mom when she was 80 liked gardening and doing crosswords and reading Colette, and far be it from anyone to say that she should have been out riding back roads on a giant Harley while clad in black leather. Though that's an image that would have made her smile…
And far be it from anyone to say she shouldn't have ridden those roads and that Harley if she wanted to.