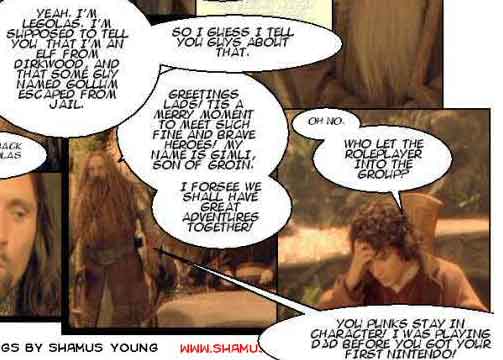 "DM of the Rings" is a wonderfully comic rework of Lord of the Rings–images from the movie with cartoon dialog from a bunch of guys playing the story as a D & D game. Just for example…
Frodo aka "Dave's character": Do we all have to be hobbits? My stats are rubbish!
Aragorn: I'm not a hobbit. I get to be a ranger!
Sam: Look at those guys! I'm going to need a stepladded just to stab them in the knees.
Legolas: My character is a man!
Aragorn: Your character portrait says different-Meow!
Really fun, really silly–and I swear I've played D&D with every one of these guys. Heck, I remember when was one of these guys!
Thanks, Akma, for the great link to nerdiferous humor–and happy birthday, Akma!