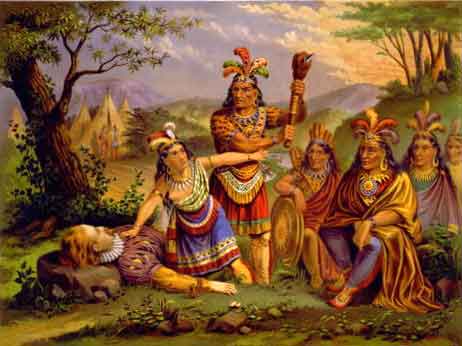 "Captain John Smith was widely believed to be a liar .. he was also, arguably, the first American historian," says the recent New Yorker article where I first learned the (cynical and condescending, hence surely pomo) term for autobiographical writing, "self-fashioning."
Modern taste in biography enjoys debunking but sniggers at "inspiration." (Middle-schoolers who wouldn't know Trenton from Bunker Hill can tell you that George Washington owned slaves and badly-fitted false teeth.) One non-modern and inspiring antidote to this trend can be found at the Nobel Prize website, where untrendy and innocent new Nobel laureates try to create a brief history of the family and lifetime behind their scientific achievement. Just a few favorites, not coincidentally all physicists:
Many of the supposed lies of John Smith turned out, in the end, to be true. And some at least of his debunkers turned out to have their own ulterior motives–e.g., debunking an early Virginia colony in order to augment the luster of New England Pilgrims. And George Washington did a few things that make him worthy of being remembered aside from slave-owning, false teeth, and his failure to chop down cherry trees.
So, if you're ready to join me in being cynical about knee-jerk cynicism, one inspiring place to start would be Nobel biographies.