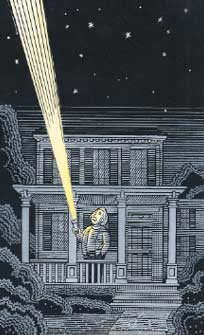 Here you see Einstein (happy birthday, professor!) on the front porch of the Princeton house where Frank and I later spent about eight happy years.
It's an artist's conception, so you don't see any tourists ringing the doorbell.
Welcome to my new blog. Please pardon me if it's now a (messy) open house. I had been planning to fix it up more before sending out any virtually-engraved invitations. Things moved too fast for me.
Einstein's ninth law is that nothing moves faster than gossip through the blogosphere.
Or maybe something moves faster–but that something sure isn't Betsy!