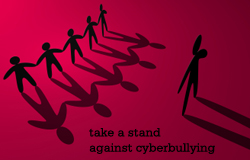 Two Irishmen jumped off the Empire State Building…which brings me to my own suggestion for turning the Kathy Sierra horror story into a victory for blogging kindness. Let me tell you a (non-PC) story I heard from my dad…
***
Pat and Mike and their half empty bottle of whiskey somehow get to the top of the Empire State Building. "Sure, and a leap to the ground would be a glorious end to this fine evening," says Pat.
"I'm not so sure," says Mike. "What if it hurts?"
"Ye baby" says Pat, "watch this." So Pat jumps over and hollers back up to Mike, "Jump, ye baby, it doesn't hurt at all."
So then Mike jumps, and he and Pat are both flying down through the air and feeling grand. But Pat is still that little bit in front. So Pat hits the ground first. And Pat yells up to Mike, "Mikey–go back, go back–it hurts, it hurts!"
***
Good people around the blogworld are asking how we can defend cyberbullying victims like Kathy Sierra. But the great story here is that Kathy defended herself against bullies who lured each other on into more and more outrageous posts and comments.
One minute the bullies, like Pat, were flying high, with power to hurt and diminish whatever they touched. Then–thanks to Kathy–bullies hit the reality that a wide public is reading ugly comments made about *them*.
It hurts, it hurts.
No, I'm not rejoicing in anyone's pain. There's been more than enough pain to go around in this whole sorry mess.
My point is–let's get back to the positive here–that warning cyberbullies to "Remember Kathy Sierra" is powerful and likely to succeed. It's not a call to improve your morality. It's a call to remember the horrible wrath that rained down on anyone who had even tenuous connections to sites where anons gathered to bully Kathy Sierra. Respected people, good people, like Frank Paynter and Jeneane Sessum, whose work on the web had made them widely loved, suddenly found themselves under truly scary attack by angry (and well-meaning) people who were ready to shoot first and maybe aim later.
"Remember Kathy Sierra." It's better though longer than "Stop Cyberbullying." And it's shorter than my alternative warning to potential cyberbullies:
"Go back, go back. It hurts, it hurts."
***
p.s. I bless Andy Carvin for "Stop Cyberbullying Day," (also Scott MacLeod for some great cartoons.)