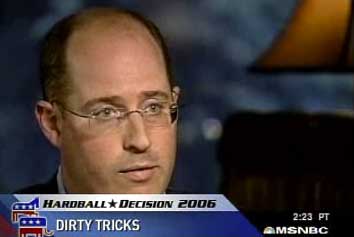 NBC's Hardball talked phone-jamming with disgraced GOP phone-jammer Allen Raymond. A partial transcript, posted at MediaMatters:
NBC's LISA MYERS: In an exclusive interview, Raymond admits that, four years ago, he went beyond pushing the envelope and actually crossed the line. He spent three months in prison. Now, in a civil suit, Democrats are trying to tie his misdeeds to the White House.

It all happened during a hard-fought battle for the U.S. Senate in New Hampshire between then-Democratic Governor Jean Shaheen and Republican John Sununu. Raymond was running a telemarketing firm. He says an old friend from the Republican National Committee, James Tobin, came to him with an idea: use nonstop hang-up calls to tie up Democratic phone lines on Election Day.

So, you were trying to create chaos and keep Democrats from getting out their vote?

RAYMOND: That's right. We were trying to create chaos and prevent the Democratic Party from operating efficiently.

MYERS: On Election Day, the plan worked until nervous state Republicans pulled the plug. And the Republican candidate won, though there's no evidence that phone jamming made the difference.

How common are dirty tricks in both Republican and Democratic politics?

RAYMOND: I think they're fairly common, but let's be clear on something. New Hampshire phone jamming was not a dirty trick; it was criminal.
Raymond understands the distinction, but does NBC?
Apparently not.
The frame story for NBC was that Republicans and Democrats are equally dirty.
Uh huh. So here we have a Republican felony reaching high enough that, after consulting the White House, the Republican National Committee spent $3 million and counting for high-priced defense lawyers. And here we have an unsupported statement that Democrats also engage in dirty tricks.
In our major media, that's what passes for balance.
---