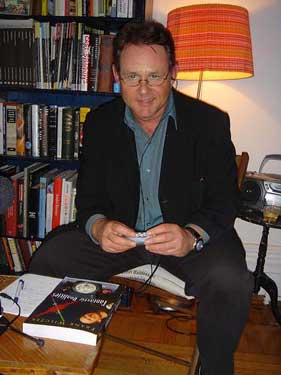 Einstein once tried to cheer up a dejected parrot by telling it jokes. Years later, Sci Am podcaster Steve Mirsky claimed he found the parrot (there's some uncertainty here) and tape-recorded its memories:
"How do I order beer in a bar? I say 'Ein stein for Einstein.' Hey, Parrot, what's the difference between a wild boar and Niels Bohr? When I say that God doesn't play dice, a wild boar doesn't tell me to stop telling God what to do. I hate that. So what do you say to the man who developed the exclusion principle? You say, 'Pauli want a cracker?' Wolfgang Pauli, get it? Hello, is this thing on? Testing, one, two. Hey, Parrot, I had a dream where I made love to Rita Hayworth for an hour. Well, for her it was an hour. For me, 35 seconds. That's relativity. Okay, Newton is standing on the shoulders of a giant…
Steve's sense of humor might be one reason people love his podcast…
I'm looking forward to hearing how his podcast with both Frank and me will turn out–it's due May 3. Anyway, it was fun meeting Steve backstage at the NYC book party…and, as for his podcast–subscribed!
---