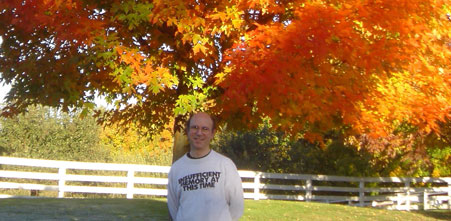 Taking a break from quantum chromodynamics, Frank and I spent a day in autumn's multiple colors.
Frank spotted this tree with three colors as he returned from a few miles of country dirt-path running. I enjoyed the non-relativistic time-shift of the first morning of Daylight Savings Time. As the farmer who delivered animal breakfast explained to me, "Sheep don't take an extra hour of sleep, the way we do."
I've started Flickring those Kentucky photographs (e.g. hadron tree and happy sheep), if you feel like your own quantum-autumn excursion.
---