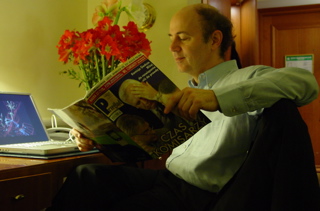 Frank's Polish grandmother, aka Grandma Wilczek, compressed a powerful primal force somewhere in her 5-foot-tall frame. Her wedding portrait, lugging an armful of lilies as long as her arm, dominates one corner of our diningroom.
At 19, in Poland's disastrous post-World-War-I years, she fled her home town, Galician Babice. On Long Island, she met Frank's Polish grandfather–a six-foot-tall blacksmith from Warsaw, who gave us all the last name that means "little wolf."
I've enjoyed watching Frank get in touch with his Polish roots (and vice versa), but today's
PIASA party takes the cake (or at least it takes the chrusciki and/or paczki).
"PIASA" stands for "Polish Institute of Arts and Sciences of America," emigre scholars who maintain a wonderful archive of Polish lore here in NYC.
A good time was had by all–and I flickred some photos.
---