Avast, ye scurvy dogs formerly known as Google!
Steve Rubel, Dave Winer, and Dan Gillmor have the real story about Google's new"AutoLinks"–which turn out to be the same idea as Microsoft's idea for "Smart Tags"–and were apparently dreamed up by the same person who made up Smart Tags to start with.
The piratical plan behind both AutoLinks and Smart Tags
is to use
near-monopoly power to shanghai web traffic away from smaller players, and into sites you control. Example: Gary Price went shopping for books at the Barnes and Noble website–and discovered that
every book's ISBN number had been Autolinked to a sales page over at Amazon.
Maybe they could just Smart Tag or AutoLink "Don't be evil" to a page more fitted to their new business model. Arrrrr!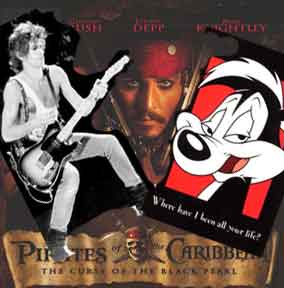 ---