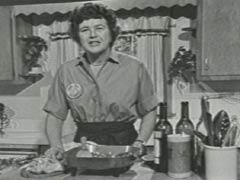 About 40 years ago, Julia Child brought French cooking to American TV. Julia was more than 6 feet tall, sublimely obsessed with her own area of expertise, and not in the least what the general public agreed all women should look like, sound like, or act like.
We loved her. She was herself and we recognized this and we loved her.
My pal Halley is getting some flack for her praise of Girlism.* Hey, I enjoy reading Halley's praise of thong undies, because I have as much fun watching Halley be Halley as I do watching Julia be Julia. And didn't we feminists march so that women could be free to be the people we want to be?
In a world where women are forced to do French cooking, or wear thong undies, or (worse!) do both together–boy, I would really be in big, big trouble. But I sure don't want a world where women who thrill to French cooking while wearing thong panties and kicking the butts of bad guys have to shut up and pretend they like something different.
---
*One of the
funniest, sweetest, and most intelligent comments on the controversy
was written by big hairy non-girl Dave Winer.
---