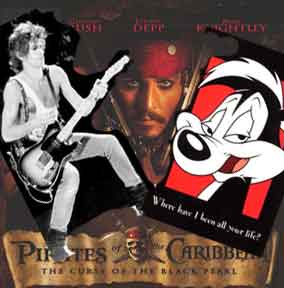 Yo ho ho and a bottle of rum
Fifteen men on a dead man's chest
Drink and the devil had done for the rest
Yo ho ho and a bottle of rum.
All over Prague, posters for Pirati Z Karibiku kept teasing me–now at last, back in the USA, I got to see the new pirate movie.
It is awesomely silly fun–and the awesomely silliest is Johnny Depp as Captain Jack Sparrow. Depp says his portrayal was inspired by legendary bad boy Keith Richards, and by legendary cartoon skunk Pepe Le Pew.
Super special effects and sword fights, too. For more raves, read Rotten Tomatoes. For fun trailers, see the official website. For one gripe, listen to this: inspired by rum-drinking characters, I went out and bought myself a bottle of rum, and it doesn't taste good at all. It tastes (to me) like medicine.
Yo ho, ho ho, ho ho, ho–I guess the laugh's on me.
---