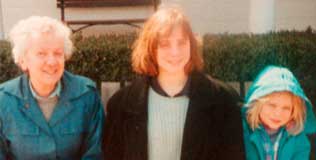 I miss my mother.
I miss her wit, her taste for small pleasures and homely achievements, her devotion to family, her complex memories and the use she made of them for explaining a complex world she didn't always approve of.
I don't mean to make my mother sound like a sweet mellow grandma. In her old age that was how she structured her life–but the mother I knew growing up was formidable, even fierce. She came from a houseful of liberated ladies and got through an MA at Smith before World War II turned everyone's lives upside down. She was one of the most intelligent people I've ever met, widely read, piercingly quick to see through pretense. But she narrowed her circle after my father died, narrowed it down to a tiny, tiny round by the end of her life. I don't want to do that with my life, at least not until I get very old and even more feeble. One of the many things I learned from my mother is that the price of staying away from the parts of the world you don't like is to have your circle diminish to almost nothing.
I loved the way that she re-read all the books she loved, again and again, not too often because she didn't want them to lose their magical other-ness. When she felt death was getting close, and her eyes were failing, she abandoned restraint and went through every single one of her favorites in sequence. She felt deliciously wicked for breaking her own longheld rules. Here's a short list: Jane Austen, Louisa May Alcott, J.R.R. Tolkein, and perhaps surprisingly, the naughty Colette.
Her last year I sometimes chafed, and Frank did too, at the amount of time I spent driving up to NH to be with her. It took time away from work, from family, from getting our new house organized to live in. And yet, demanding and grueling as it sometimes was–you'd get up there, she was out of medicine, she was out of groceries, there was a sudden emergency, you would be running around doing housework and errands and then drive back. And the worst of it was that you still would not have made her really comfortable, or put her life in an organizational state you would like to see. You would just have fought off the wolves that one more time.
After Marie and Kim got the visiting nurses set up to help out (around New Year, when I was in Chile) the chaos improved. But all year, it was hard to see her losing ground, especially toward the end, and often in pain. She never complained, or almost never, and then only about the little things. Not the pain, not the cancer. When she told me that she had probably baked her last batch of cupcakes…I'm glad she was able to tell me that, but it hurt so much to hear it. Instead, she made a point of saying brave things. That she wasn't afraid of death, that it would be an adventure, because she'd never died before.
I kept on reminding myself that, every visit, I had brought her some happiness and some peace and some pleasure, some relaxation, some civilized peaceful enjoyment, some feeling the world could be a kindly place. That was what we both needed to believe. My life is now empty of all that good stuff as well as the bad stuff. And I miss her very much. I miss the time we spent together. I miss having her to talk to about so many things. I enjoyed listening to her stories of her childhood. It's almost as real to me now as my own childhood. And now she's gone.
And I miss her.

---