The canonical path (for women) to immortality is to be adored by immortal men. Consider the life, and fame, of Alice Pleasance Liddell (1852-1934), the inspiration for Alice in Wonderland. Three photographs: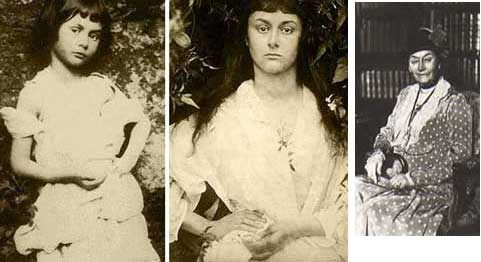 The first, taken in 1859 by Lewis Carroll (Charles Dodgson) shows 7 year-old Alice posed as a beggar girl.
The second, taken by the famous Victorian photographer Julia Cameron (1815-1879), shows Alice as a young woman–posed as the mirror image of Carroll's beggar girl.
The third shows Alice at 80, when she was eking out her income by lecturing on her experience as "Alice."
---
The brilliant but shy Oxford mathematician Charles Dodgson first met Alice when she was (almost) four–he was twenty-four. Three years later, Alice inspired Carroll/Dodgson to dream up the
Alice in Wonderland
story during a boat trip–he published the story in 1865. Its sequel,
Through the Looking Glass
, appeared in 1871.
Supposedly, Queen Victoria's fourth son Prince Leopold, fell in love with Alice when he was at Oxford. He was dissuaded from wedding a commoner, and Alice got married in 1880 to another Oxford student, named Reginald Hargreaves.
Now (if not earlier) her story diverges from fantasy. Of their three sons, two were killed in action in World War I. In 1925, Alice's husband died too. She was 73. No passionate young men gathered round to adore and protect her. She was reduced to selling Carroll's hand-written manuscripts, and later to touring the US giving lectures. She confessed to her last surviving son that she was "tired of being Alice in Wonderland. Does it sound ungrateful? It is – only I do get tired!"
(I remember a football-playing college boyfriend with a bad knee, whose doctor told him, "Twenty years down the road, your football glory plus ten cents will get you a cup of coffee–assuming the cost of coffee doesn't rise." For most of us, once we are 80, telling the story of all the men who worshipped us way-back-when won't pay the rent. In that way, Alice was lucky.)
If any girl got a ticket to immortality from the man who adored her–Alice surely did. So, how immortal is she? According to Google the hits for "Alice Liddell" plus the hits for "Alice Pleasance Liddell" add up to about 4,000–Lewis Carroll himself gets more than 164,000. In fact, the photographer Julia Margaret Cameron has about 4 times as many hits as little Alice.
The moral? If you want to be immortal, girls–or if you just want to be solvent–do it yourself!
---